Softball Pitcher Reaches a 100 Ks in a Season
Caroline recently just achieved a total of 100 strikeouts in the 2023 season. 
This season she has been averaging 9 strikeouts a game with a 2.00 ERA. "My coach's father is a pitching coach and I have been working with him all year round. I play summer ball with her (softball coach) and pitch with him in the winter. So he has helped me to be the way I am right now." 
Caroline's favorite pitch is a screwball which is a type of "breaking" pitch that has a unique spin. 
Last week, Caroline Sattler was named Athlete of the Week! She is currently a sophomore at McMahon and is the pitcher for the softball team. 
"This was a goal of mine since freshman year and it's really exciting to see that," says Caroline. "I feel like my hard work is finally paying off."
She was recognized for helping the Softball win against Wilton 3-2. She has been recognized mostly by the number of strikeouts she has done this season. 
Caroline doesn't only play for McMahon but also for CT Venom with some of her teammates. 
"My favorite thing I love is the team aspect. I just love the excitement of making a good play with all your friends around you. 
Caroline is currently the only pitcher on the team. "The most challenging thing is not getting injured, trying to stay healthy myself, especially pitching every game and not really having any backups. My sister and Sammy are the only people who can pitch but they are both injured." 
Being part of the softball team comes with a commitment since they consist of three hours of practice. When she's off the field and not in uniform she always finds herself doing her homework. "Right when I get home from a practice or game I am usually going to the library. It's just hard to keep a balanced schedule and on top of having two AP classes, it's a bit much."
The softball team's next home game is on Wednesday, November 10th at 4 PM against Warde. Come watch to see Caroline pitch and support our softball team!
Leave a Comment
About the Writer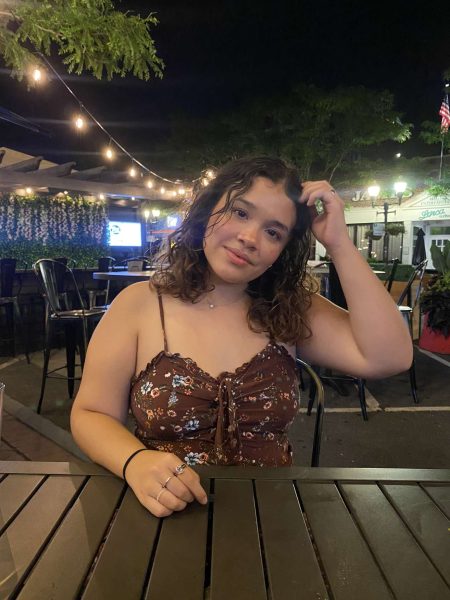 Conny Galvez, Editor-in-Chief
Hello Senators! My name is Conny and this is my third year working at the McMahon Archive. My friends and I helped start up this newspaper in order to...