How to Pick Out the Perfect Prom Dress
If there is one event that every girl looks forward to in their high school years, it's most definitely prom. Every girl growing up has envisioned what they would look like going to prom. What color they would wear, what style of dress, who they would go with, and even what shoes they would wear. Prom is the highlight of high school to many, and even though it's exciting, it can be just, if not more stressful. 
This article will be a guide to help Juniors and Seniors, maybe even lower classmen who are thinking about their future prom and how to pick the best prom dress for them. I'll talk about what colors match best on different skin tones, which style would fit best on you, etc. Remember that your dress should make YOU feel beautiful. Your opinion is the only one that matters. This article is just to make your prom experience a bit less stressful. 
Skin tone
Firstly we'll be talking about what colors match best with certain skin tones. These colors that match best will make you stand out and draw attention, which is what most people want to do at prom. 
I will break the different skin tones into five categories. Below is a chart with the five categories and the different shades within the categories. Match yourself with the closest shade and read which colors match you best!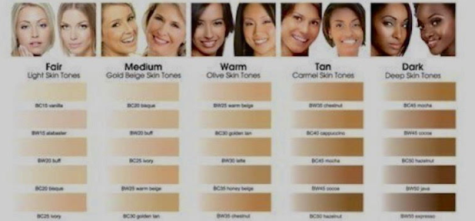 Fair 
For fair skin tones, some of the best colors recommended would be emerald green, navy, Neutral colors (browns & grays), ruby red, and deep purple.
Medium 
For medium skin tones the colors I would recommend 'warm' earthy tones such as browns, tan, yellow, green, orange, gray, blues, and some reds. Pastel colors will also be flattering. 
Warm
The best colors for warm skin tones include colors green, brown, mustard yellow, and warm red. Other colors that you can work with are peach, coral, amber, and gold. 
Tan 
Some of the colors that help enhance tan skin tones are coral, purple, white, blue, and pink. 
Dark
For deeper skin tones the best colors would be rich shades such as gold and copper. Any bright jewel tone or pastel colors will compliment dark skin tones as well. 
Body type
Another part of finding the perfect prom dress is finding out what style fits you best. There are a variety of different styles such as backless, mermaid, and ballgowns. To figure out which style would be most flattering on you, you should know your body type.
 There are 5 main body types; triangle, rectangle, apple, hourglass, and lastly Pear. Every body type has parts you want to enhance and show off, which these dress options will help do. Below is a chart of the 5 body types, so you can see which type fits you best. 
Triangle
Some Characteristics of a triangle body type include broad shoulders, and narrow hips/bottom, and is often called an athletic-looking silhouette.
For this body type, you want a dress that helps your hips appear fuller in order to balance out your upper body. In order to do that you want a dress that flares from the hips/waist. Great examples of dress styles include strapless, A-line, and Nipped dresses. 
Examples in order (Strapless, A-line, Nipped)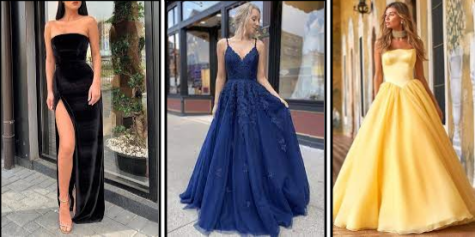 Rectangle 
Normally a rectangular has a straight silhouette with not many curves, shoulders, and hips that have similar widths and very long legs.
For this body type you want a dress that is balanced on the top and bottom while pulling in at the waist. Some of the best dress types are empire line dresses, princess seam dresses, and wrap dresses. 
Examples in order (empire line, princess seam, wrap)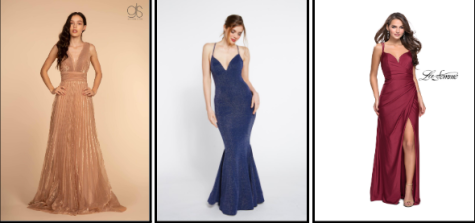 Apple
Apple body types have a wide ribcage and back. They also have narrow hips and an average to big bust. 
For your perfect prom dress, you want to highlight your best features such as your bust and/or your legs. The dress types that do just that are A-line, empire- line and bias-cut. 
Examples in order ( a-line, empire-line, bias-cut)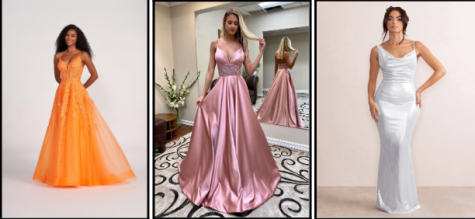 Hourglass 
Characteristics of an hourglass figure are hips and bust that are equal in size and a well-defined waist. 
For your prom dress you want something that fits your bust well but also elongates your waist as well. The best dress examples for an hourglass shape are bias cut, wrap dresses, and corset dresses. 
Examples in order (bias cut, wrap, corset)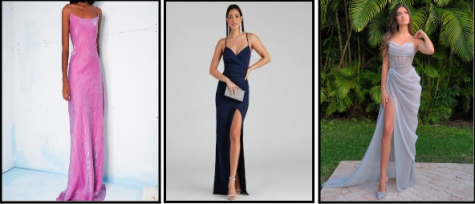 Pear
Pear body types have shoulders and busts that are normally smaller than the hips. They also often have a high and defined waist.
You want your prom dress to highlight your upper body and defined waist. Some dresses that do this are A-line, fit & flare, and lastly off shoulder dresses.
Examples in order ( a-line, fit & flare, off the shoulder)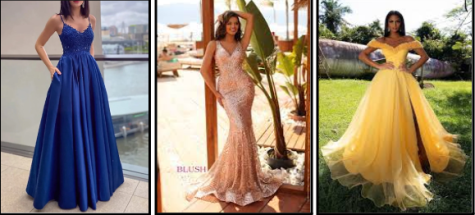 Now that I've gone over all the possible dress options that would fit you guys best, it's up to you to decide which dress you love. Remember my tips when you go dress shopping but also keep in mind to buy whatever makes you feel beautiful. This day is really all about you, so make sure you're comfortable and happy with your choice. Make sure to buy your dresses soon. Prom is right around the corner! 
Leave a Comment
About the Contributor
Mya Dooley, Writer
Hii! My name is Mya Dooley and I'm junior here at McMahon. I enjoy reading and binge watching shows. Some of my favorite books are All Your Perfects by...