McMahon Wants to Know: SPOTIFY WRAPPED EDITION
McMahon Wants to Know is back with a special edition! Here are five examples of students' Spotify Wrapped. I asked the normal stuff, plus six questions each: top artist, top song, the total number of minutes they listened to, how they felt about their Wrapped, and what they think makes a good or bad Spotify Wrapped.
Name: Mia McDonald
Age: 16
Job title: Dentist
Top artist: Harry Styles
Top song: "Softly" by Clairo
Minutes: 32,000
How do you feel: "It sucks."
Good: "I think if you have a lot of diversity with your music taste, but it's actually stuff you enjoy listening to."
Bad: "Um, if all of your top songs are popular, and TikTok music, and stuff that everyone listens to, like stuff that you don't actually enjoy listening to, you just listen to it cause other people do."
Name: Alfred Hitchcock (Noah)
Age: 67 (16)
Job title: Ski Instructor and potential lifeguard
Top artist: Led Zeppelin
Top song: "Money Trees" by Kendrick Lamar and Jay Rock
Minutes: 63,000
How do you feel: "Some people get like really 'ahhh I didn't like my Spotify wrappeddd!' I think it's kind of stupid when they say that, like it's not that deep, in my opinion. Um, I'm happy with it, it's cool to see how my music changed throughout the year."
Good: "I kind of hate the idea, not hate that's a strong word– I kind of dislike the idea of having a good Spotify Wrapped versus a bad Spotify Wrapped. I guess you can make the argument that if you only listen to one song, you're not really experiencing the whole of everything music has to offer, but besides that I can't really think of anything."
Bad: "Just a lack of diversity, I guess, and even then I don't really care."
Name: Rose
Age: 16
Job title: Tennis player, band member, Stew Leonard's employee
Top artist: Adelle
Top song: "Leave the Door Open" by Silk Sonic
Minutes: 72,382
How do you feel: "Um, I think it was pretty acceptable. I mean, none of the artists were people that I don't listen to, they were all artists I listen to on the daily."
Good: "I think just, like, a good music genre, like not too many genres all around, just sticking to one or two. Because even though it's a variety of genres, I feel like if you have a pop song and then you have a country song just out of nowhere, I feel like it's just not gonna work out."
Bad: "Anything that has country music."
Name: Max Makover
Age: 16
Job title: not to be mentioned because it was very rude
Top artist: Good ol' Kanye West (his words, not mine)
Top song: "I Was Lovin' You" by James Hype, Ayak, Dots per Inch, and TS7
Minutes: 19,876
How do you feel: "It feels a little inaccurate, you know, cause I don't feel like my top songs are exactly my favorite songs by any means; however, it was really interesting to see, cause I remember looking back at my top songs and remembering when I was really obsessed with those songs, like different periods of my year."
Good: "I would say NOT diversity. I love people who are loyal to their artist, it's just like, you can truly see– like someone who's top five songs are all Pink Floyd songs, you can see the loyalty to that artist. I love people who are very into one person like that."
Bad: "Country music, and Taylor Swift, and I would say if you don't have Spotify and use something like Apple Music Wrapped."
Name: Ava 
Age: 15
Job title: Writer
Top artist: Taylor Swift
Top song: "Mirrorball" by Taylor Swift
Minutes: 300
How do you feel: "I mean, I don't think I had a good Spotify Wrapped. Before October 31st I only had it for a week or two weeks, because Apple Music was glitching out, and I had to make the switch because I hate Apple Music now."
Good: "I feel like it's more personal. Like, if I had all the artists I liked, I think it's perfect. But from an outside point of view, if you didn't like the artists of someone else's [Wrapped], then you're gonna be like that's not really that good, you know? Because there's so many underrated artists."
Bad: "If you listened to Kanye."
Personally, the day Spotify wrapped comes out is a day I look forward to all year. Finding out just how much of my year was spent on Spotify. Well I calculated it, and it was about 43 days in total. That might sound like a lot, but my goal for next year is at least 55 and a half (aka 80,000 minutes). Anyway, I also love how it gives a way for people to connect with each other–  even if they don't have much else in common, they can still bully each other about the amount of minutes they have, or the fact that Spotify called your listening mood "Sad Boi Hours." But I know some people can judge pretty harshly off of it, like some of the people above, but I wouldn't feel too bad if you have a "bad" Spotify Wrapped. Despite what some people think, it doesn't show who you are. I still think Spotify rigged it for Harry Styles. 
If you want, compare, comment, or whatever on the above examples, just please don't be mean (except to Max, because Kanye as a top artist is unforgivable). Happy Spotify Wrapped Season!
Leave a Comment
About the Contributor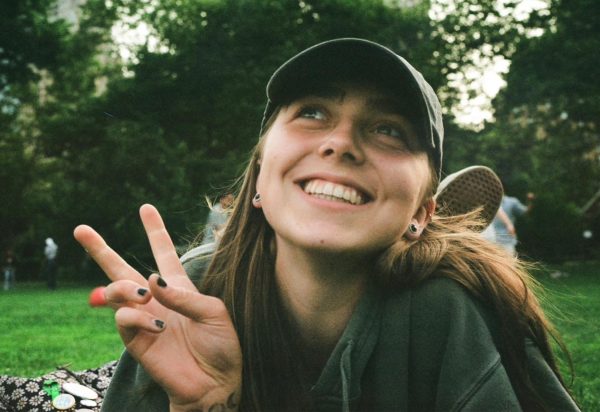 Rosie Strickland, Managing Editor
Hi!! I'm Rosie, a senior here at McMahon. I'm the one to reach out to regarding the club portion of the newspaper, if you weren't able to join the class...