New York Sports Report: The Kids Are Alright
Yesterday the Rangers achieved a 6-4 victory against the Anaheim Ducks, with Artemi Panarin and Mika Zibanejad racking up 4 points. The former members of the Kid Line scored 1 point apiece and continued to show us how much they've improved.
If we focus on the Kids, we can see a drastic new style of play that began in the playoffs. They appear to be more confident and take more chances, using an aggressive playing style and blooming off the players they became in the playoffs.
You could see this style of play come out on the Alexis Lafreniere goal; Chytil uses his skating ability to maneuver himself around the Duck's players and gives the puck to Jacob Trouba, then comes to the side of the net to set himself up to feed Lafreniere the puck, creating an extra play.
Кappo Kakko set himself up for a goal by positioning himself to tip in a shot by Mika Zibanejad. Zibanejad has been on a streak lately, averaging a goal and an assist per game; he may be on track for a 40-goal season similar to 2019-2020, where he got 41 goals.
Artemi Panarin is still firing his impressive tape-to-tape passes and his stunning stick-handling feats, but so far he's taking more shots; in his first four games during the 2021-2022 season, he only recorded seven shots throughout two games, but this season he has shown some growth and recorded a total of 10 shots, with at least one shot per game.
Panarin scored the game-winning goal last night; it was an expert play. He held the puck in a way that made it seem like he was about to pass, causing John Gibson, the Ducks goaltender, to open, leaving Panirin's shot to trickle in over his pads.
Leave a Comment
About the Contributor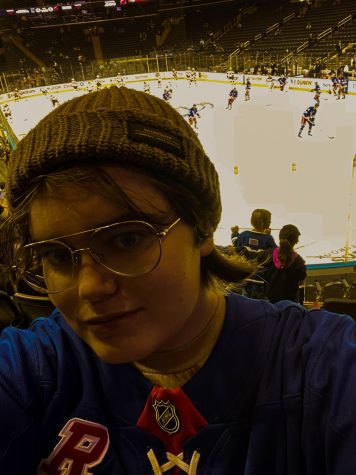 Lily Stanton, Sports Writer
Hi, My name is Lily and I an a Sophomore; I am thrilled to be apart of this Archive. I enjoy sports writing and want to pursue a career in hockey writing...