boygenius – "the record" Review
Boygenius' newest work, titled the record, is a beautiful work of art melding their three complimentary styles and perfectly displaying their close bond. Phoebe Bridgers, Julien Baker, and Lucy Dacus are the three talented members behind this female supergroup, along with a primarily female band and producer. Their self-titled debut EP, made after a joint tour, would be hard to follow, but they succeeded in further convincing the listener of their shared and individual genius.
Beginning with the short, vocals-only track "Without You Without Them," the group is already setting a tone for the album. They lead from the folk harmony ending of "Ketchum, I.D." in boygenius, to this harmonic message of the value of family, chosen or born. 
The next three songs, the original singles released for the album, to me seem to show the individual styles of each artist: Baker, with her strong riffs and sharp lyrics in "$20", Bridgers, with her searching and haunting yet comfortable melody and lyrics in "Emily I'm Sorry", reminiscent of her previous solo albums, and Dacus, with her beautiful resounding vocals and steady storytelling in "True Blue", again highlighting the value of friendship bonds and the people who know you best.
"Cool About It" is one of my personal favorites, combining a folky sound similar to that seen in "Ketchum, I.D." and "Souvenir" in their EP, with really thought-provoking lyrics about the heart-aching time following a break-up.
The literal and metaphorical center of the album, "Not Strong Enough", comes next, complete with unique verses and lyrics by each member, a combination of beautiful harmonies and faster-paced rhythm. Paired with the homemade music video by the three of them, this song is a clear stand-out and my forever favorite.
"Revolution 0" is another song where Bridgers takes the lead, very clear in the presence of the haunting violin that characterizes much of her most recent album, Punisher.
"Leonard Cohen" is the masterpiece of Dacus, taking on her talent for resounding yet simple storytelling and wandering melody that draws the listener in for the entire minute and forty-two seconds.
Baker takes the lead again with "Satanist", fulfilling her wish for "more sick riffs" on the album, and creating a 90's rock vibe.
Following that is the much quieter "We're in Love", an obvious Dacus creation gently backed by the other two women in vocals. It's five minutes of pure love and gorgeous lyrics.
"Anti-Curse" is another of my favorites, most likely because of the immediately captivating electric guitar melody sung by Baker, whose voice I am absolutely obsessed with. It's also important to mention that these three never miss with interesting song titles.
And to end, Bridgers sings of the future and of knowing your own worth in "Letter to an Old Poet". The three women originally came together with their shared love of literature and storytelling, relating over books and authors they loved. This final song takes some reference from Rainer Maria Rilke's classic Letters to a Young Poet, alluding to the idea that Bridgers, Dacus, and Baker are still learning how to go forward from their past. This uncertainty is definitely present throughout the album, but the final message seems to be that by holding on to a strong support system, and learning from each other, the challenges of their lives can be overcome.
Leave a Comment
About the Contributor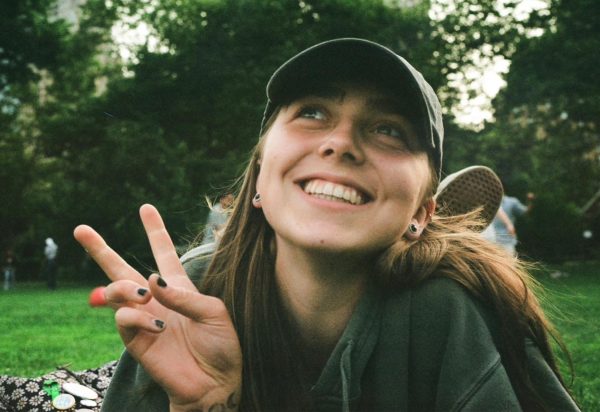 Rosie Strickland, Managing Editor
Hi!! I'm Rosie, a senior here at McMahon. I'm the one to reach out to regarding the club portion of the newspaper, if you weren't able to join the class...