Funeral Playlist #slayinginthegrave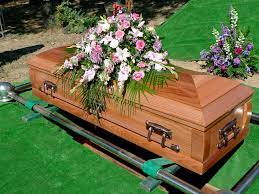 Funeral Playlist Definition – 
One magical afternoon I was in my friends car and we were listening to Pursuit of Happiness by Kid Cudi and it hit me that when I die I want that song to play as I'm getting put into the ground. You might think a funeral playlist that's depressing. No it's fun, it's a celebration of life, a party even. I don't want people crying and upset at my funeral. I want good vibes and everyone dancing so I made a playlist of the best songs that captivate my story and really wraps up my life.
Here's My Playlist:
All Of The Lights – Kanye West 
Pursuit of Happiness -Kid Cudi 
Nice for What – Drake 
Sky Walker – Miguel 
All The Stars – Sza
Va Va Vroom -Nicki Minaj
CAN'T SAY – Travis Scott 
Happiness is a Butterfly – Lana del Ray 
etc.
Putting the fun in funeral  😁
Then I went around and asked people what songs captivate their life and what songs that will be played at their celebration of life, I interviewed Becca Parra about her song choice: "I picked the song "El Taxi" because I feel like people can really party to this song and I want to end it with a bang."
I also interviewed Ava who chose "Long Live" by Taylor swift: "I just think that song wraps up my life and the lyrics work in a way that's like closure."
Songs I got from others – 
Anything – Bruno Mars 
Highway To Hell – AC/DC
Across The Universe – John Lennon 
Long Live – Taylor Swift
Sweet Creature – Harry Styles
El Taxi –  Pitbull 
Twerkulator – City Girls 
 Any UK Drill
Sl** Me Out – NLE Choppa
Don't Let Me Down –  The Beatles
Life is long, celebrate your death <3
View Comments (2)
About the Contributor
Emma Signore, Staff Writer
Hi I'm Emma! I'm a  Junior. This is my first year doing Journalism and I'm very excited for all the things we will do this year together. I'm excited...