Spring Production Musical is Bringing the 1920s Back
For the past two years, the Brien McMahon theater program has been engulfed in stories of magic and childhood reminiscence, but now, they're bringing us back to the gritty reality of the 1920s.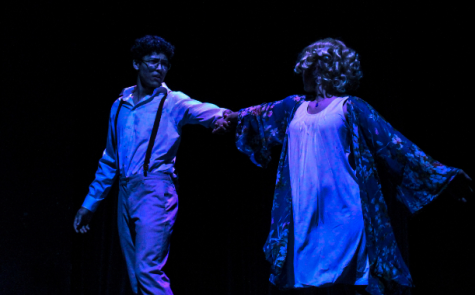 The upcoming production of Chicago is said to be more "mature," "realistic," and "dramatic" than that past–A musical about women and murder; a musical that places the audience back in the grit of the 1920s. "People know about Gatsby, we've seen the 20s movies, and shows. People like to be transported to a time they didn't grow up in, especially the 20s," says Cristina Zangaglia, an English teacher here at Brien McMahon and the show's producer and choreographer. It includes the jazzy music, fashion, and dances from that time, but not without a hint of "murder." 
Brian Crook, the director of all the productions done at Brien McMahon, said that his role is to "provide the vision for what it should look, sound, and feel like."
"Partly I wanted something that was in contrast from what we did last year. Last year was kind of happy, a pluckly kind of show. This year I wanted something different. I also wanted a show that anybody can see themselves in. It's not specific towards a certain person. It's something that anybody can see," says Crook.
Chicago focuses on the characters of Roxie Hart, Billy Flynn, Velma Kelly, and Amos Hart. "Chicago is about Roxie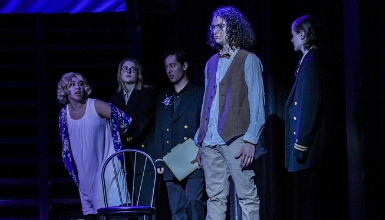 Hart who ends up killing someone she is having an affair with because he promised to bring her on tour. She gets put in jail and finds Billy Flynn [a lawyer], who tries to get her out of jail since he never lost a case. Throughout the show Roxie ends up lying that she is having a baby to get more attention from the press," says Zach Young, one of the lead actors in the show. "[Roxie] wants to be like Velma Kelly [who is a famous singer]. Roxie will do pretty much anything to get to that point. Her whole thing is just wanting to be in the public, famous. Even though killing someone wasn't the best way, she hires this really good lawyer and they make this whole fake story up," says Isabella Cuartas. 
Isabella is a senior here at Brien McMahon and one of the leads in Chicago. She is double cast as Roxie alongside Emily Lupinacci, meaning both actors will play Roxie but on separate nights. Double casting is a unique approach to production because more people have the opportunity to feature as leads.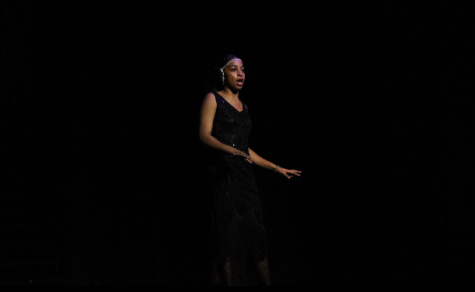 The lead actors of the show are Emily and Isabela as Roxie Hart, Zach Young and Paul Chernysh as Billy Flynn, Aliana Aspesi and Skai Harmon as Velma Kelly and Lucas Campisi, and William Scott as Amos Hart. 
"I've never been on a team that double casts, so when Crook brought it up I was concerned. However, I quickly learned the benefits–there's always an understudy in case anything happens, and also, we feature so much more talent. It's been wonderful to work with the double-cast roles. For example, Zach and Paul [cast as Billy] know each other very well… They have a lot of talent and training so when you interchange them it's technically the same person going. It's amazing!" says Mrs. Zangaglia.
"However…when you are double casted rehearsals are a lot harder to do because you have to do [them] together and learn. You have to learn your off-night parts which are always hard because you have to know all the steps," says Lucas Campisi, playing Amos Hart.
Those who do not have a lead are not double cast, and instead, play a variety of characters. "Too many [roles] to count; I'm the club patron, reporter, and Veronica, Velma's sister," says Edelin Ramírez.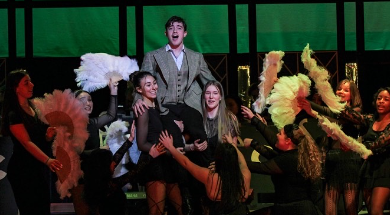 When watching this musical you will notice a big part of it are the dances, which is a signature feature of Chicago. "I choreographed in the shower and in my car, it's my favorite time to choreograph. It'll all be in my head and I can guinea pig it and execute [it with] the kids in person. I am most proud that I didn't steal any choreography because all of the time when people do Chicago they steal the Chicago choreography. But mine is all raw choreography," says Zangaglia. Two of the popular and highly anticipated dances of the play are the Cell Block Tango and Hot Honey Rag.
Another significant feature of this Spring musical is the placement of the pit band. In past productions, the band is usually in the pit or below the stage, but now they are on stage with the actors! Rehearsals with the pit started after their sitzprobe which is a day when the actors/actresses sit down with the band and go through music. McMahon's band is led by Ron Secchi, the music director. "It's way better…we're not hidden. It makes us feel like more of the process," says Rose Pierre,  percussionist for the band.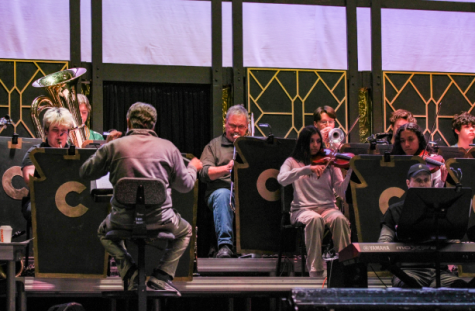 The drama department spent countless hours preparing for this musical. They started rehearsals on January 10, 2023.  "It's just [that] a lot of hard work has been put into this. People have spent days on end working," says James Herbert, stage crew manager.  Their rehearsals have consisted of 6 to 10 hour-days and they rehearse six times a week. 
"It's so fun [preparing for the play]. At first, it was a little like everyone was in their own world and everyone had their own group. After a while people started loosening up, we started talking to each other and it's been good. It's starting to feel like a family." says Julia Murray, an actor in the ensemble cast.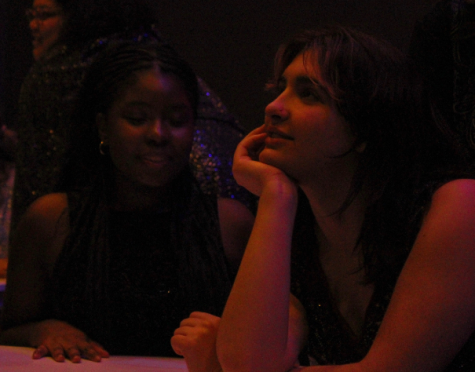 When watching this musical, be prepared to be on the edge of your seat the entire time. "It's fun, it's different, it has some attitude, it has great music. It's really catchy, I guarantee 90% of our audience will come to see this show and know at least one song already and run out of the room singing the rest," says Mr. Crook. 
For more information please visit the website: https://bmhsdrama.org/
Leave a Comment
About the Contributors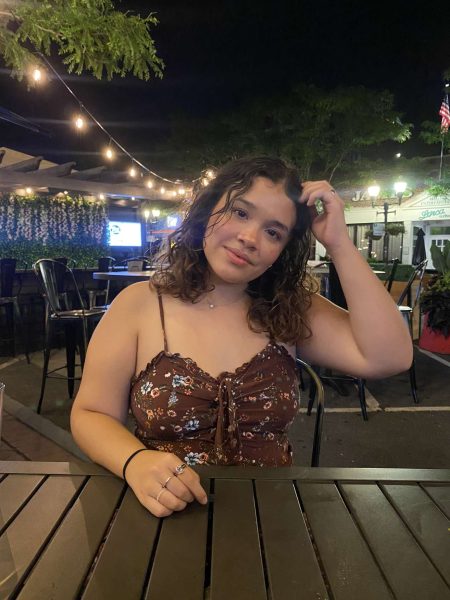 Conny Galvez, Editor-in-Chief
Hello Senators! My name is Conny and this is my third year working at the McMahon Archive. My friends and I helped start up this newspaper in order to...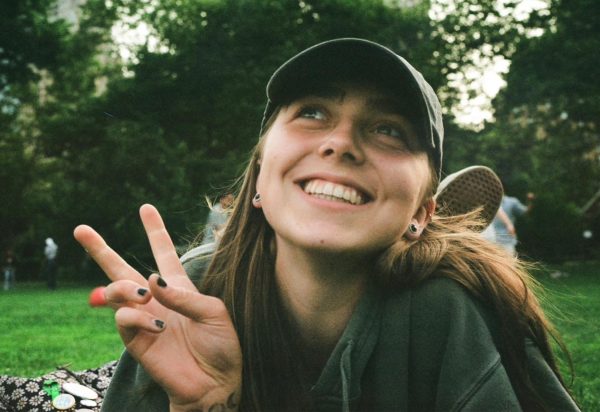 Rosie Strickland, Managing Editor
Hi!! I'm Rosie, a senior here at McMahon. I'm the one to reach out to regarding the club portion of the newspaper, if you weren't able to join the class...