Want to Get Better at Makeup? Here's Some Tips to Do So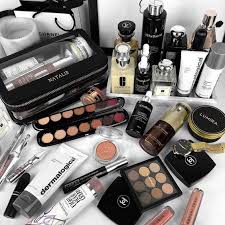 If you love makeup and are interested in getting more full coverage this is for you! The first step into your makeup routine is to always moisturize and prime to prevent breakouts and make your makeup look 10 times better. Make sure your beauty blender is soaked through water and damp. You do this because it applies better and blends more easily into your skin.
1. If you are an eye shadow person you should always do this first without risking ruining the base of your makeup. In this stage, you should also do your brows. Conceal eyelids before applying eye shadow for more definition and for it to stand out more. Conceal brows after shading/brow gel to get more sharpness and to the shape you like. You should use a skinny thin brush for your brows!
2. Next is the base of your makeup. You will need foundation, concealer, and setting spray. Using your damped beauty blended blend the foundation and then concealer. Foundation should go all over your face whereas concealer should not. Put your concealer in places you wanna cover up, acne, dark spots, and red spots. After blending these two in grab the setting spray and spray your whole face 3-4 times before moving on to contour.
3. Contour is the fun part, where you sculpt your face more. You should contour your nose (the sides and bridge), upper cheekbone (the cheekbone to the end of the eyebrow), and the top of your forehead. Blend in with a medium size brush with a fluffy top or beauty blender if you do not have one. Liquid contour is the best to do makeup with. This will make your face skinnier, especially your nose. Make sure you are using a very darker shade of contour, it will show more than using your own shade.
4. After the contour is blush (you can do powder, liquid, or cream). Use liquid or cream blush first on your cheeks/cheekbones with a brush then set your face with setting powder. With setting powder, you should use a setting powder sponge and do it under the eyes, nose, and lower cheekbone near the jawline. And after the face is set (3-5 mins) go in with powder blush and go over those spots you put the liquid or cream blush to see the blush even more. If you aren't a big fan of blush you should not apply more after setting. 
5. If you like eyeliner this applies to you. Go in with black or white (depending on which one you like the best) Do on the water line, (top and bottom) and wing if you want. After eyeliner, you should do mascara or lashes. I recommend curling lashes before doing either, it looks neater. 
6. Then go in with a highlighter (can be stuck or in a palette) and highlight the nose, upper cheekbone, and the inner corner of your eye. This makes your face glow and look even prettier than before. After his lips, (lip liner, matte lipstick, or regular gloss) and do it in that exact order.
7. Lastly setting spray so your makeup stays in place the whole time. You should spray at least 7-8 times, your face will be damp at this point. After fan yourself so it dries and then you're done!!
Leave a Comment
About the Contributor
Melina Dooley, Photography Editor
Photography Editor:
Hey guys, My name is Melina Dooley and a Junior at Brien McMahon. It is my first year working on the Newspaper for our school but...