Denzel Curry "Imperial" Review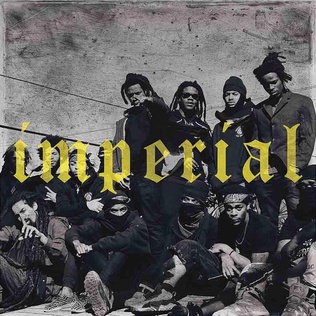 Denzel Curry is one of my favorite rappers of all time. I will be reviewing his "Imperial" album that put his name on the map and solidified his spot in the rap game.
#1 – ULT
This is a great intro, it sets the tone for the rest of the album. Ronny J went bananas on the beat, the production is mind-boggling.  The song discusses police brutalities as well as black-on-black crimes. Denzel does a great job rapping about controversial topics and making it sound like a mainstream song.
#2 – Gook
This is a very fast-paced song about being a "gook" or somebody who doesn't fit in with the crowd. I honestly don't really like this song, the hook is played too many times, the beat is nothing special and is underwhelming. The song is filled with disses to various other rappers as well as inspirational lines. This is one of the songs you have to play a lot in order to like it.
#3 – Sick & Tired
This is also an energetic and fast-paced song. But, the beat and lyrics are much better. Ronny J did a great job on the production. The lyrics talk about living in the hood and the mentality of a "poor" thug living in it.
#4 – Knotty Head  ft. Rick Ross
The beat is produced by FNZ and is one of the greatest beats I've ever heard. Knotty Head is about Denzel's upbringing and the people he was surrounded by. This song features Rick Ross, who honestly slid on this beat. Ross always has that "laid back" flow and it paired really well with the beat.
#5 – Me Now
This song is masterpiece and the best song on the album. The hook is catchy, Denzel's flow on the whole song is just amazing. The second verse on this song is one my favorite verses of all time. This song really opened up my eyes as to who Denzel Curry is. This song never gets old.
#6 – Story: No title
This song is about Denzel Curry and his come up in the rap game. A story with no title is a story that no conclusions can be made in advance . This song was produced by Lino Martinez, and he did a terrific job on it. The beat is electrifying. Denzel goes in depth on what he had to go through to get to where he is now.
#7 – This Life
I know I have praised the producers a lot but the beat on this song is literally amazing, astonishing, just perfect. My boy put me on to this song at the beginning of quarantine and honestly I didn't really mess with it. Then, one day I was driving with my friends and this song got played through the aux and I fell in love with it. This is a great hype song and this song is what got me hooked on Denzel Curry.
#8 – Zenith
This song is really different from the previous tracks. This is a more wavy song, I don't really like it. The beat leaves a lot to be desired. The song has a Joey Bada$$ feature, he did his part but it just wasn't a very good song in general. Denzel Curry missed on this track with all due respect.
#9 – Good Night ft. Twelve'len, Nell
The sample and beat on this song is bananas. The hook on this really makes it feel like an outro even though its not. This song has features of Twelve'len, and Nell. In all honesty, both of them did amazing. This song would've been a perfect outro in my opinion.
#10 – If Tomorrow's Not Here ft. Twelve'len
This is a very wavy song, it relaxes me and puts me in a good mood. Its a very good unwinding song. Twelve carried this song, one of his best features in my opinion. Denzel's second verse is crazy, I really like this song but I don't think it should've been the outro.
Overall, this album is fascinating, and although it has some misses, it is a very amazing album. You can listen to this album 1000 times and never get bored of it, it's that good.
Leave a Comment
About the Contributor
Eddie Morales
Hello, my name is Eddie. I am a junior at Brien McMahon, class of 2024. I enjoy reading, listening to music, playing and watching basketball, I am a die...