Fall Fashion Trends You Should Try
Although our flowy summer dress days will be missed, we are all excited to welcome the colder weather as it is approaching us very quickly. This means that we need to start wearing more appropriate clothing and more layers. From plaid skirts to knitted sweaters, there is something to fit everyone's style. In this article, we will be covering all of your fall fashion clothing necessities that will make sure to keep you cozy and comfortable.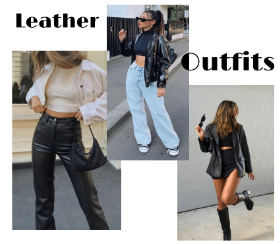 Leather has always been a big part of fall fashion but this year it is stepping up and taking over all pieces of clothing. Ranging from leather pants to boots and now even tops, leather is taking over most of the trending fall outfits this season. Using leather jackets for almost all of your fall outfits is the safest option when choosing something that won't completely cover up your outfit but also keeps you warm.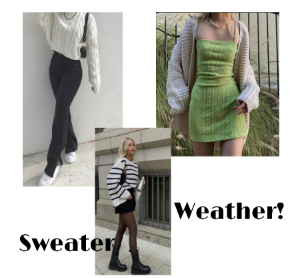 Sweaters for fall are an absolute must and everyone's go-to for a simple everyday outfit. Whether it's a knitted sweater or a simple hoodie, we are all excited to pull out our sweaters that have been hidden in the back of the closet this summer. Speaking of knitted clothing, it's a major must-have for most outfits during fall. This includes knitted cardigans and even dresses if you want a fancier look for any occasion, they are one of the comfiest clothing choices for a classic outfit this fall.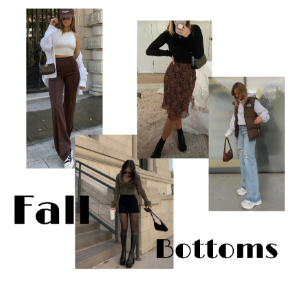 Mini skirts are very popular for a cute fall outfit, being able to pair them with your sweaters creates the perfect classy fall look. While plaid is still an option, there are plenty more colors and designs to choose from and combine. Long skirts are always an option as well if you want more coverage and equally as well paired with other clothing items. This year we have plenty of more jeans options to choose from. Of course, we have our classic skinny jeans and now we have baggy jeans and many colors to choose from, denim, black, white, blue and so much more!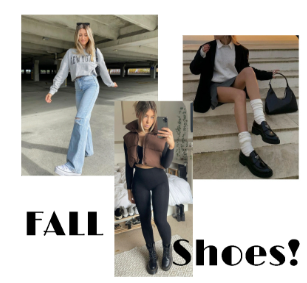 Shoes are the key to finishing up your fall outfits so when it comes to it, we want to make sure they fit the occasion. This year loafers are definitely still in style for fall 2022, especially chunky loafers. I think pairing them with some leg warmers would make the cutest formal outfit. Dr. Martens are very trendy this year as well being able to pair them with so many outfits and combinations. White sneakers are always a safe option as well when wearing a more casual outfit or just wanting to be more comfortable.
Leave a Comment
About the Contributor
Samantha Corona, Writer
Hi!, My name is Samantha Corona and I am a senior at Brien McMahon High School. I am one of the writers on here and hope to bring information and entertainment...