"House of the Dragon" Review
As Game of Thrones ended in 2019, many fans were left with anger, sadness, and disappointment with how the last ended. Their favorite characters' story developments were destroyed by the writers and left a question of what is next. Through these tough couple of years with no Game of Thrones content, HBO was secretly creating a spin-off, or should I say sequel called "House of the Dragon".
In August of this year (2022), the very first season was released, causing fans to regain their hype for the show in hopes it would do justice to this story-verse. The first episode premiered with 10 million watchers, 4 times more than the Game of Thrones pilot.
This series gives viewers a look into the Targaryen Dynasty 200 years before Game of Thrones. It follows King Visery's daughter and heir to the Iron Throne, Rhaenyra Targaryen, and her fight to claim her birthright along with battling her own familial issues.
This show has taken fans on a rollercoaster of emotions with Alicent Hightower, Rhaenyra's former friend, marrying her father, Visery's, and then having a whole change of character towards Rhaenyra. Not only is there a "change of character" in the characters themselves, but both Rhaenyra and Alicent's actresses change from Milly Alcock and Emily Carey to Emma D'Arcy and Olivia Cooke. Though the fans had unliked the switch mid-season, the new actresses proved to show the same dedication and emotion in the show.
Now onto the plot aspect, throughout the first season, the King is ill and makes Rhaenyra his heir in case of his death. Many unliked this decision as only a male should be heir to the Iron Throne, but Visery's was unable to have a son with his first wife, Aemma. She later died, leaving Visery's to marry Alicent Hightower — the daughter of his hand and his daughter's close friend.
The show jumps many years later and they have two sons and a daughter, which then begs the debate of if his first son, Aegon, shall be the heir instead of Rhaenyra. Visery's sticks to his decision. Rhaenyra marries her cousin and has three of "his" kids, which causes conflict as people believe her kids to be Ser Harwin's. "Bastard" gets thrown around a couple of times and then gets pushed under the rug by the king. Rhaenyra marries her uncle Daemon after her husband, Ser Laenor, fakes his death. From here, the family is all put together until Rhaenyra's children beat up Rhaenyra's brother, taking out his eye in the process.
Rhaenyra and Alicent become violent toward each other leading to a crack in the family. Visery's illness progresses and on his deathbed, tells whom he thought was Rhaenyra that he believes in her to rule on the Iron Throne. He actually told this to Alicent, who then told the council that Aegon belongs on the throne as the king's last dying wish. The season ends with Rhaenyra trying to take back her right and her son being killed by Aemond. The last scene is Rhaenyra's face full of sadness and anger, meaning the war is going to happen.
With this being said, House of the Dragon was perfectly executed with the cast, plot, and imagery. HBO was really able to capture the emotions being expressed during this time and gave fans a taste of  Game of Thrones again. If you haven't watched the show yet, you better get the HBO Max subscription and binge it because it is that good.
Leave a Comment
About the Contributor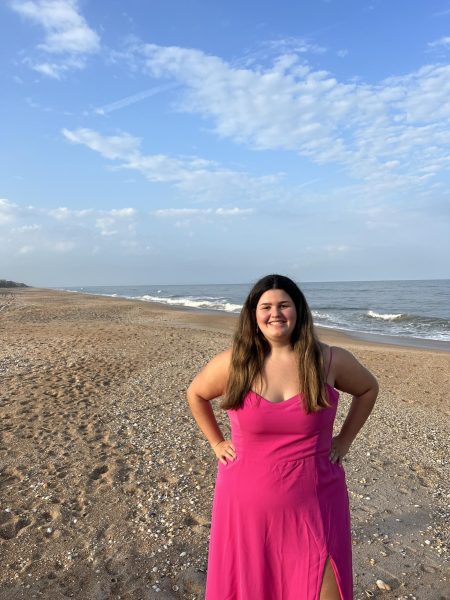 Ava Massucco, Editor
Hi! My name is Ava and I am in charge of the Entertainment section of the McMahon Archive. I tend to write articles about food, movies, and other pop-culture...