Who Is The Greatest Soccer Player Of All Time?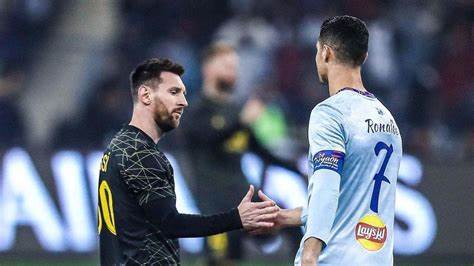 Many people think that Lionel Messi is the greatest player of all time, and many people think that Ronaldo is. But who actually is the greatest player of all time?
You might have thought that the Messi vs Ronaldo debate was over as soon as Messi won the FIFA World Cup trophy in 2022, but it in fact has not come to an end. Ronaldo fans faced a great defeat when Portugal was eliminated from the quarterfinals of the World Cup but did not give up on being huge supporters of Ronaldo.
When Argentina became champions, Ronaldo's fans started commenting hate comments all over social media. Some of these comments were, "So glad we won't see Messi in the World Cup again." "Totally undeserved."
On the other hand, other fans were saying, "Ronaldo is the best player and the goat." These comments proved to Messi fans that they were still going to debate over the best player of all time, even if they didn't win the World Cup. Messi fans had comments saying, "Messi has finally proved himself. No more debate on who's the goat." "Simply the greatest of all time." That day was a day to celebrate for Messi fans.
Messi and Ronaldo have both won multiple championships with their respective clubs. Some of these for Messi were, 10 La Liga titles, seven Copa del Rey titles, three UEFA Super Cup titles, and three FIFA Club World Cup trophies for La Liga team FC Barcelona.
On the other hand, Ronaldo has won seven league cups in 3 different leagues. He is the first in history to win league cups in the Premier League, the La Liga league, and Serie A. He has also won five UEFA Champions League titles, four FIFA Club World Cup trophies, one English FA Cup, and one Italian Cup. Clearly, both of these players have won amazing championships that make them the best players.
According to their goals, Ronaldo is the top goal scorer in men's international football with 118 goals for Portugal. At the club level, he is also the all-time top goal scorer for La Liga team Real Madrid with 450 goals. He holds the record for most goals in the UEFA Champions League with 140. In total, Ronaldo has scored 819 goals in 1,145 appearances, while Messi has scored 793 goals in 1,003 appearances.
Ronaldo may be more successful in goals scored and Messi at the national level, but after being shown what both these players have to prove, who do you think is the greatest soccer player of all time?
Leave a Comment
About the Contributor
Andrea Lima, Photographer
Hello! My name is Andrea and I am currently a Junior here in Brien McMahon. I enjoy writing, listening to music, and watching movies. I love taking pictures...