What Is the Puffs Play?
While you are walking down the hallways at McMahon you see signs or hear announcements talking about Puffs on the daily. As you look at the signs or hear the announcements you may ask yourself, what are they talking about and what is the show, "Puffs"? 
Puffs is one of the upcoming plays that is going to happen here at McMahon on November 17, 18,19 at 7 P.M.
Due to their licensing agreement, the way producer Mrs. Zangalia asks that we describe Puffs as a story about Seven Increasingly Eventful Years at a Certain School of Magic and Magic…essentially a spin off to a classic story we all grew up to know and love.
As many wizard fans know in the books there are different houses. One of those houses is named the "Hufflepuffs" which was known as the underdog house. They were seen as the house that wasn't popular or relevant at Hogwarts. 
"The play focuses on the point-of-view of the Puffs from the seven years starting from Sorcerer Stone to Deathly Hallows," said Zachary Young. 
Zachary Young plays one of the three leads in this play, Wayne Hopkins. He plays the leading roles with Kosta Negron and Aliana Aspesi: who play Oliver River and Meghan Jones. "They are the Hermione, Ron, and Harry of the Puff's House," said Zach.
"It's also how they experience these events like seeing what Mr. Potter was going through, what he did. For example, Mr. Potter talking to a snake in public or the first time Voldermort showed up. It's the point-of-view the Puffs are going through," Zach said. 
However, Mr. Potter, played by Kyla McGovern will never be called by his full name in the play. Zach said, "It would be considered copyright (infringement) so you will never see in the script the two words Harry and Potter put together. It's usually just Mr. Potter or Harry."
The show is meant to be a comic. There are a lot of laughs especially if you've taken an online quiz and landed in the 'Puff' house!
Many people may think to themselves that they haven't watched or read the series and believe they wouldn't understand this play. Even if you aren't a wizard fan or watched the movies, this will still be a fun play to watch. 
"I have seen just one movie and this has helped me understand the basis of the movies like I can be a fake fan of Mr. Potter," said Lia, who is one of the assistant directors. 
This is a play that many people will understand, not just Mr. Potter fans. "You'll still get it because it's vague enough where it does poke fun. So we all know that Mr. Potter saves the day. He's the protagonist in every single book and story. So when they make fun of Mr. Potter saving the day, it's something everyone would get," said Mrs. Z.
"Some of our leads haven't watched the movies but yet really enjoy the play," said Sarah, who is one of the assistant directors. 
This play is something different compared to the other plays as it is a straight play. "When you think of a play you usually think of singing and dancing but Puffs is a fall production. So usually in the Fall, we do straight plays. So it's just like you sitting in class reading Romeo and Juliet. There's no singing, there's no dancing," said Mrs. Z.
Going to the play would be a perfect time to spend quality time with your friends and family.  This play is not only perfect for kids but also for adults. "There are some jokes about the 90s that the adults will definitely find funny," said Lia.  As you watch the play you will notice a lot of references from the 90s film and media such as Star Wars and many more. 
Much hard work has been put into this play. There have been so many hours put into this play. The actors, crew, assistant directors, directors, producers, and so many people have sacrificed hours for rehearsals that go from 2:30-8:00 PM. "We're looking forward to laughs and appreciation of all the hard work we have done. I really want the audience to feel happy after seeing this and hopefully, they would come again," said Lia and Sarah.
Mrs. Z talks about how one of the most challenging things had to be making the Playbill and it is one of the many things people underestimate. "The packet that everyone receives when entering a theater takes a lot of work. But as someone who is in the play or part of the play, it is really important [for them] because it showcases what they do. It takes a lot of time to piece it together. But luckily I have an amazing team of leads: Holly Robert and Lily Stanton who worked tirelessly to get this done! I love working on the playbill because we also feature local vendors that donate food or support that support the program like: Speedy Donuts, Rowayton Pizza, UCBC, Mr. Red Rose." So, something to note – don't throw away the Playbill!  
If you are looking for a way to get some laughs in with your family and friends this weekend, you should go watch the Puffs. This is a great way to come together as a community to show appreciation for theater as well as for our peers. 
It starts at 7:00 PM on the 17, 18, and 19th of November. You will be able to get tickets during lunch waves at McMahon, at the door, or in Ms. Z's room 2055. For all NPS students, it will cost $5 a ticket and general admission will be $10.
Leave a Comment
About the Writer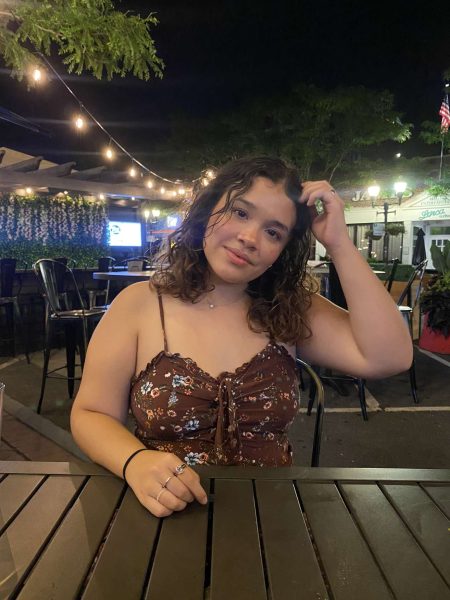 Conny Galvez, Editor-in-Chief
Hello Senators! My name is Conny and this is my third year working at the McMahon Archive. My friends and I helped start up this newspaper in order to...