Profile: Calli Gilchrist
The article appears as a part of our Senators Profile Series.
When you walk through the Brien McMahon gymnasium, you will notice posters hung on the brick beige walls. If you stop to look closer at these posters you will see that they show athletes from Brien McMahon, athletes who have gained recognition. There is a poster representing Calli at the far side of the gym, it is an All-American poster that shows a real-time picture of Calli wrestling. 
Calli is a sophomore at Brien McMahon High School. She is an athletic individual who partakes in many sports throughout the school year. She is a well-rounded student who aims to keep straight A's in school while being successful at her hobbies, which include Cross Country, track (running 400m), Javelin, and Wrestling. 
She recently was named Athlete of the Week on December 23, 2022.
It's inspirational to see posters hung of young athletes attending Brien McMahon on the school walls. Not only does it recognize the individual's successes, but also shows light on other students who have an aspiration to participate in a sport but might be scared to give it a try. 
Calli is excited about this upcoming wrestling season. She states, "I think it's going to be a great year. I have my sights set on another FCIACs and LL state place and another state championship."
Her favorite part about wrestling is competing in the tournaments, it's the thrill that makes her most excited and nervous. Although she has faced losses during matches, it's the losses she makes aware of and learns from to excel in her upcoming tournaments. With this, she encourages others who are interested in wrestling to have strong persistence in the sport. As it's a sport that not only takes a lot of physical strength but mental strength as well. 
Calli is one of the two state champions in Norwalk in the first year of the CIAC-sanctioned tournament. She hopes to become a career athlete and continue wrestling in college. 
Aside from sports, Calli is a student who attends CGS, a magnet school connected to Brien McMahon. "I love CGS and I'm so glad I get to be a part of the program. I am very grateful for the opportunity to learn Arabic and I think most people would agree when I say that the whole school feels like a really close-knit community, and I'm very thankful for that."
Calli also mentions that her favorite subject in school is math. "My favorite subject is math, I think it always has been. I think I've always liked that sort of strict, one-way to-do it, problem-solving."
In her free time, she enjoys volunteering at her wrestling club and coaching younger kids; recently she has also joined CGA Chronicle and CYL. 
There are goals Calli intends on reaching, which will require time and dedication. With Her motto, "although I have faced losses during matches, it's the losses that make me aware of and learns from to excel in upcoming tournaments,"; it's fair to say that she will be able to reach her goals. 
Leave a Comment
About the Writer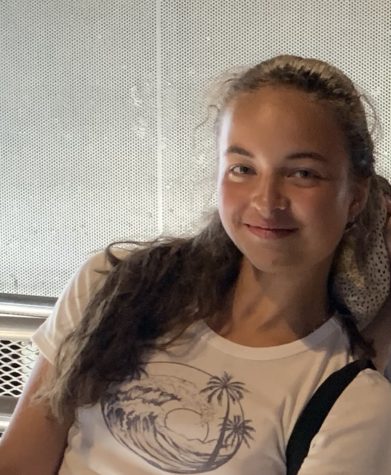 Briela McManamon, Editor
Hey Senators! I am thrilled to be a part of the McMahon archives. I am one of the writers finding information on the event portion of this site. On a personal...