Wonderful Winter Activities To Do Throughout the Holiday Season
As the temperature quickly decreases, the joy of the holiday season does the opposite. No matter what holiday you celebrate, these activities to do during the coldest season will bring you the most warmth and comfort. Get your UGGs on and grab a hot chocolate, we're going to finish this season better than we entered it.
#1 – Iceskating
Whether it be Rockefeller Center in NYC or just in Norwalk, grab some skates and get on ice. It doesn't matter if you've never done it, there is always time to learn. This will be an experience full of laughs, falls, and probably many injuries, but a great way to spend with friends.
#2 – Hallmark Movies
Don't feel like doing much? Put some fuzzy socks on, grab a blanket and some hot cocoa, and throw a cheesy Hallmark movie on. Yes, they all have the same plot line (city girl goes to a small town and so on…), but they do provide a sense of comfort. Personally, I get inspired to join in on a bake-off or something due to how fun it looks in the movies.
#3 – Bake Cookies
Who doesn't want to eat a cookie? You could make snickerdoodles, gingerbread men, chocolate chip, or just simple sugar cookies. It is so fun to roll out the dough and make different shapes, but the best part is licking the bowl and eating the leftover dough even if it is hazardous for your health (raw cookie dough is the best!).
#4 – Build Gingerbread Houses
Gingerbread is gingerbread. It belongs to no specific holiday as you can just decorate it however you want to. You can easily grab a kit at Walmart or bake your own. Yes, it is frustrating to get the parts of the house to stick together, but there is always the option of giving up and eating it (which I do). Have a gingerbread house competition with your friends, making this a great time to spread your joy.
#5 – Simply Celebrate Your Holiday
Some celebrate Christmas, others celebrate Hannukah or Kwanza. The best and most fulfilling thing to do this Winter season is to celebrate. Pull out your decorations, put up some lights, grab a tree if you use one, and spend time with your family. This is the time to cherish each other and be grateful for what you have.
These are just a few activities you could do this season. There is even the New Year to celebrate too! Look back on everything you have accomplished this year and make goals of what you want to see yourself doing next year. I hope these activities have appealed to everybody's freezing bodies that seek warmth. Remember, the Holiday season should be spent with family, friends, and people you love. This is probably the most important time of the year as we can learn how to better ourselves and each other. Stay warm and spread your joy!
Leave a Comment
About the Contributor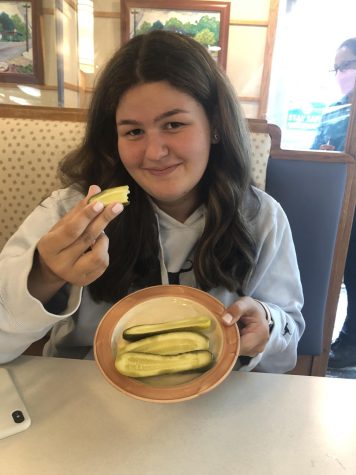 Ava Massucco, Writer
Hello, my name is Ava. I am currently a Junior (Class of 2024) at Brien McMahon. My favorite hobby is reading. I just read "A Touch of Darkness" by...