Profile: Meet Ms. Sullivan, the Spirit of McMahon
The article appears as a part of our Senators Profile Series. 
      Twenty two years ago, a long term English sub with a history in consulting decided to take a job as a PE and health teacher at McMahon. If you walk into her office now, you'll see the walls lined with photographs, memories of past teams she coached, and classes she taught. Her passion for teaching is still just as strong after twenty two years of being here. Her name is Tori Sullivan, but you may know her as Ms. Sullivan, Coach Sully, or Tori. I, for one, am very grateful that she decided to leave consulting. 
        Ms. Sullivan grew up in New Jersey, declaring herself a proud Jersey girl, and went to the University of Michigan for field hockey, also declaring herself a die hard Wolverine. She studied PE, health, and business. Michigan will always have an important role in her life. She still talks to her college friends every Saturday football game, and when it came time for her son to go to school, he followed in her path. Around school, you can often see her wearing the maize and blue M.
        She managed her own consulting business when her son was in school, but quickly discovered how much she loved being involved with the school community and environment. She coached his sports teams, and volunteered in his classes, enough so that her "hubby" eventually told her she "loved the school stuff more than getting new clients." And so she decided to leave her job in consulting and start teaching, getting a job as a long term sub here at McMahon. She's been here ever since.
        When in school, Ms. Sullivan played field hockey, softball, basketball, and even competed in swimming and diving; however, she now coaches lacrosse and volleyball at McMahon. She has a huge passion for sports, and has always been willing to participate wherever she's needed. When Mr. Madaffari (the last Athletic Director) needed a new head volleyball coach, Ms. Sullivan took three volleyball clinics over the summer and stepped in, ready to play and learn. She said that when they found a new head coach, and she had stepped down, it had only been a year before she was drawn back in– "One more year for eight years." She has poured her heart into the program and is still in it, a strong leader for everyone to look up to, players and coaches included. Shout out to this season's team, because she told me: "This is probably one of the best volleyball teams I've seen since I've been here– well-rounded, most consistent. I'm really impressed." High praise coming from such a long-standing and significant figure in our volleyball program. She has a similar history with McMahon's girls lacrosse program. I was able to get some comments from her on the coming season. She says, "I don't know what's gonna happen, but I know that we have a really great core that needs a bigger supporting cast." Hopefully we can get that strong supporting cast this year that we've been lacking in the past.
       Ms. Sullivan loves our school, and maybe we can learn some of that appreciation from her. Her favorite part of McMahon is our diversity, how every student is different from the others, but we all come together for our school, whether that's learning in class, taking part in clubs, or competing for McMahon in sports. Her opinion is that "The more things you dip your fingers into, the more you get a picture of what McMahon is really like." We have so much to offer, and she hopes more students realize and take advantage of that. Ms. Sullivan has been here for twenty two years, has seen more than five classes and generations of students pass through McMahon. I would listen to what she has to say.
        I asked her what single piece of advice she would give the students here for getting through high school. This is what she said: "Get involved. Take risks. Don't be shy. We regret the things we didn't do, not the things we did do. Take advantage of as much as possible." Take advantage of her advice, and try something new during your time at McMahon, so you can look back at your high school years with pride and never regret, just like Ms. Sullivan!
Leave a Comment
About the Contributor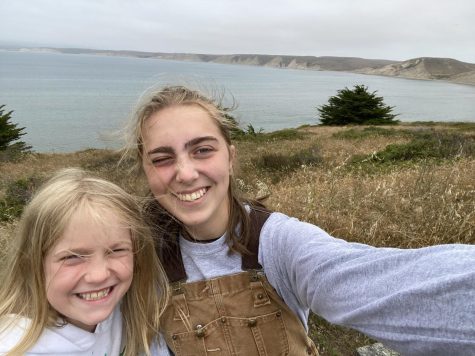 Rosie Strickland, Managing Editor
Hi!! I'm Rosie, a junior here at McMahon. I love writing, and though I mostly do fiction, journalism is something I look forward to exploring. I play volleyball,...